Painting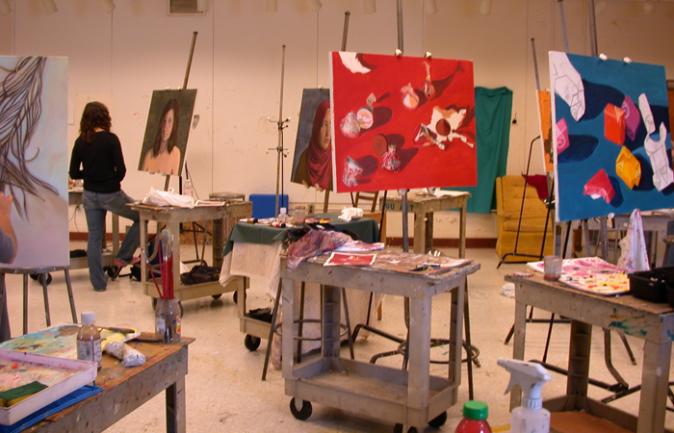 Painting is the practice of applying color to a surface or support such as canvas or panel using various medium such as oil, acrylic, and watercolor. Brushes, knives, sponges, and other tools are used to apply the medium.
Students interesting in learning the creative and expressive practice of Painting should enroll in an introductory Painting course. Each semester Painting I: Oil (ARTS-1500) and Painting I: Acrylic (ARTS-1501) are offered. In addition, Watercolor (ARTS-1502) and Methods and Materials of Painting (ARTS-1503) are periodically offered. There is no prerequisite course for introductory Painting courses, but Drawing I (ARTS-1100) or equivalent experience is useful.
Painting instructors in introductory classes take a perceptual approach using representational subjects such as still life, landscape and figure. They also stress mastery of methods, materials and techniques of the painting medium. Students will learn about color in theory and practice. Students will study a selection of artists and their practices from various art traditions.
Intermediate Painting (ARTS-2500 – 2509) is offered each semester for students who plan to continue their study. Painting projects become progressively more complex and more individual in content, reflecting the expressive and conceptual intention of the practitioner.
Paintings can be representational or abstract, contain narrative content and symbolism, and communicate emotional, spiritual, political or philosophical ideas. The students will explore various stylistic approaches.
Art majors and minors who have taken two semesters of Painting can continue their creative practice in the Advanced Painting (ARTS-3500 – 3509) course offered each semester and in Directed-Study courses which require the instructor's and Department's approval.
Painting courses do not have a lab fee. Georgetown covers select materials, equipment maintenance and some classroom supplies. However, students will need to purchase their own paint colors, brushes and canvases. This expense is similar to the cost of books in other courses.