Prof. John Morrell – Exhibition of New Work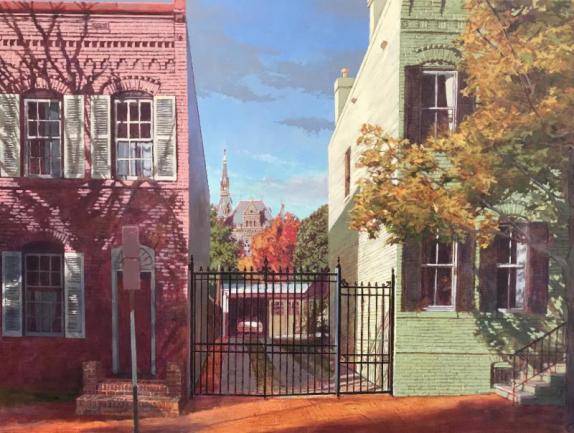 Posted in News
John Morrell – Riggs – 30″ x 30″ – Oil

John Morrell – Tulieries – 30″ x 30″
THREE CITIES: PARIS-DC-OXFORD
September 9 – October 14th, 2017
ADDISON/RIPLEY FINE ARTS
Washington, DC 20007
Opening reception in conjunction with the Galleries of Book Hill
Saturday, September 16th, 5-8pm.
Artist gallery discussion
Saturday, October 7th, 11am
The genesis for this most recent exhibition of work by John Morrell, his seventh at Addison/Ripley, was a painting sabbatical spent at Campion Hall in Oxford University, Oxford, United Kingdom in 2017. Morrell had the distinction of being the first art fellow at Campion in what he hopes will become an ongoing tradition there.
In "Three Cities" Morrell presents scenes from Paris, Oxford and Washington, DC. The artist's keen sense of light and form, as he observes these in an urban setting, is signature and reflects his long scrutiny of the gentler, more pastoral aspects of city life. The artist's work has always been classical with a modernist sensibility as well as masterful, demonstrating a lifelong command of methods and materials.
This most recent work continues that custom. Admirers of the artist's work will recognize the river bends and green spaces, brick walkways, gracefully aging structures and sun dappled leaves and branches in these congruous compositions. Collectors new to it will enjoy the grace and unmistakeable accomplishment in this new selection of oil paintings.
In the artist's words "My work brings together a strong landscape tradition in American painting with the contemporary concerns and issues of urban development, preservation of the natural environment and perceptions of our surroundings. The distinction of on site work is the meditative and observational process of time. To be still in one place, observing for several hours, noticing different aspects of a place over time shapes my vision; investing it with personal information that a recording on film or disk cannot communicate."
John Morrell is associate professor of painting & drawing at Georgetown University in Washington, D.C.. A native of Albany, New York, the artist has work in the collections of the Smithsonian American Art Museum, the State Department, the United States Postal Museum and Georgetown University and Oxford University.
The gallery is located in Upper Georgetown at the intersection of Wisconsin Avenue and Reservoir Road and is open Tuesday through Saturday from 11 until 5:30 and by appointment.
For further information and images please contact Ms. Romy Silverstein at 202.338.5180 and www.JMorrell.com (new window)