Annual Art Competition 2016
Posted in News
Call for entries on the Themes of Spirituality & Namesake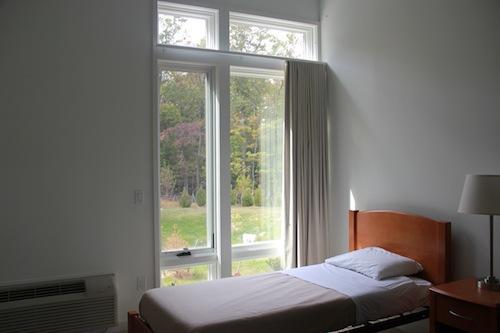 Georgetown's Campus Ministry and the Department of Art and Art History present
---
Calcagnini Contemplative Center
Annual Art Competition 2016
Georgetown student and alumni artists are invited to submit original works of art to be considered for Georgetown University's Calcagnini Contemplative Center. The Contemplative Center, which opened in 2013 and operates under the auspices of Campus Ministry, hosts retreats and contemplative programs for students, faculty, staff, and alumni. Located in the picturesque Blue Ridge Mountains overlooking the Shenandoah Valley, the 55-acre Contemplative Center seeks to provide a welcoming, prayerful and reflective space for all members of the Georgetown community. The center is home to the ESCAPE program as well as many other retreats across faith traditions (including Buddhist, Catholic, Hindu, Jewish, Muslim, Orthodox Christian, Protestant and interfaith retreats). The center is also available for retreats hosted by other Georgetown departments and programs, which have included retreats hosted by the Career Center, CSE, CSJ, LGTBQ Center, and Residential Living. Website: Campusministry.georgetown.edu/about/calcagnini (new window)
The competition seeks art in two major categories:
Spirituality
Images that inspire and aid reflection and/or prayer. The focus could include:
Contemplation, prayer, meditation
(including Ignatian concept of "contemplation in action")
Religious artwork (any tradition)
Faith and the promotion of justice
Transcendence in nature
Namesake
Art embodies the individual for which each building at the Calcagnini Contemplative Center is named. Pieces in this category should be thematic around the namesake's life and could include portraits, or representations of the person's work or those they served. The buildings at the center are named after:
Mother Teresa
Dorothy Day
St. Ignatius of Loyola
Pedro Arrupe, S.J.
St. Peter Faber
Oscar Romero
Jean Vanier
Horace McKenna, S.J.
ENTRY DEADLINE:
April 1, 2016
AWARD:
[ ] $500 [ ] $750 [ ] $1000
Purchase awards will be considered in three categories. Using the above three award categories, select a value you place on your submission. Materials, time, scale, and successful accomplishment of aims are among the criteria you should consider. If your artwork is selected for purchase it will become the property of Campus Ministry at that amount and framed by campus ministry for display at the Calcagnini Contemplative Center.
ELIGIBILITY:
Open to all current Georgetown students and alumni artists. Original paintings, drawings, photographs, prints, wall-hung sculptures and mixed media that address one or both categories above will be considered. Artists may submit multiple pieces to be considered.
JURY:
Prof. Scott Hutchison and Campus Ministry. Please email any inquiries to Prof. Scott Hutchison
DIMENSIONS:
No larger than 54" inches in height and width.  For work smaller than 8", we suggest submitting a small group of pieces meant to be displayed together such as a diptych or triptych.
DELIVERY AND PICK-UP:
Work must be delivered to Walsh 297 between noon and 5 pm on April 1, 2016. Artists will be notified whether or not their work was selected by email. Work not selected for purchase must be picked up from Walsh 297 on April 7, 2016, between noon and 5 pm. Work not picked up after one month will be disposed of as the Department of Art and Art History and Campus Ministry see fit.
LIABILITY:
All possible care will be taken to guarantee the safety of work. The Department of Art and Art History and Campus Ministry cannot bear liability for any loss or damage.