Spring Exhibition: Photographs by Alejandro Cartagena
Posted in News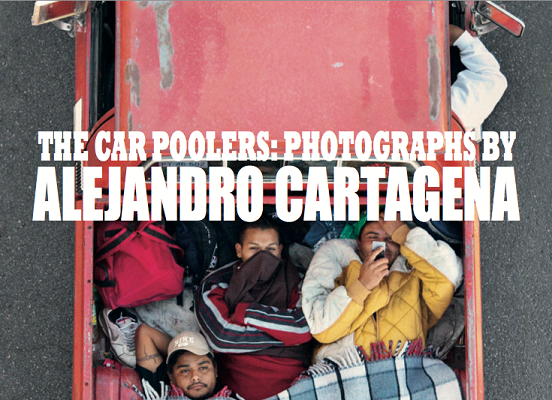 The Spagnuolo Art Gallery welcomes photographer Alejandro Cartagena as the artist for our spring exhibition. His photo series "The Car Poolers" will be on view from February 5 to April 6, 2014. Mr. Cartagena will also visit Georgetown for an Artist's Talk on Monday, February 24 from 6:00-7:00 PM in Walsh 398.
"The Car Poolers" is part of a larger body of work entitled "Suburbia Mexicana" which considers the interdependence of humans and landscape in the face of urban expansion. For one year, Cartagena captured overhead photographs of laborers carpooling in the back of pickup trucks down Monterrey's Highway 85 to San Pedro Garza Garcia, one of the richest cities in Latin America. These bird's eye view images are an arresting perspective of men trying to survive, and strikingly portray the resilience of humanity.
Cartagena lives and works in Monterrey, Mexico. His projects employ landscape and portraiture as a means to examine social, urban, and environmental issues. His work has been exhibited internationally and is in the collections of several museums including SFMOMA; the Museum of Contemporary Photography, Chicago; the Museum of Fine Arts Houston; the Portland Museum of Art; the Museo de Arte Moderno, Rio, Brazil; the Fototeca de Nuevo Leon, Mexico; and the Fototeca Nacional, Pachuca, Mexico.
About the Gallery
The Spagnuolo Art Gallery is the primary exhibition space for the Department of Art and Art History at Georgetown University. Our mission is to exhibit art by working artists, provide a space for student exhibitions, and sponsor educational arts programming in a setting accessible to the university and local community. We are located in the Walsh Building, 1221 36th St. NW, Washington, D.C. 20057. Hours are from Wednesday – Friday 12-7, Saturday 12-5, and Sunday 11-4. The gallery is free and open to the public. For additional information, visit https://art.georgetown.edu/exhibitions/.