"Pop Art Prints" come to Georgetown
Posted in News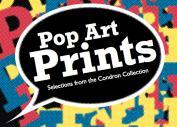 The Spagnuolo Art Gallery is proud to present "Pop Art Prints: Selections from the Condron Collection", on view from October 23 – December 8, 2013. There will be an opening reception from 5:00 – 7:00 pm on Saturday, October 26.
"Pop Art Prints" features etchings, silkscreens, and lithographs by Jim Dine, David Hockney, Jasper Johns, Alex Katz, Roy Lichtenstein, Claes Oldenburg, Robert Rauschenberg, Edward Ruscha, and Andy Warhol. The exhibition was made possible by the generous cooperation of collectors Christopher and Margaret Condron of New York.
About the Gallery
The Spagnuolo Art Gallery is the primary exhibition space for the Department of Art and Art History at Georgetown University. Our mission is to exhibit art by working artists, provide a space for student exhibitions, and sponsor educational arts programming in a setting accessible to the university community.
We are located in the Walsh Building, 1221 36th St. NW, Washington, D.C. 20057. Hours are Wednesday – Friday 12-7, Saturday 12-5, and Sunday 11-4. The gallery is free and open to the public. 
For additional information, visit our website at Exhibitions.