Charles Ritchie's "Night and Reflection" Opening
Posted in News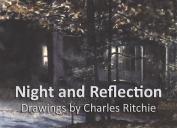 The Spagnuolo Art Gallery at Georgetown University will exhibit "Night and Reflection: Drawings by Charles Ritchie" from September 4th to October 13th, 2013. A gallery talk and reception will be held on the 4th from 5:00-7:00pm. The exhibition will showcase the artist's drawings and sketchbooks of nocturnal landscapes and unpopulated interiors.
For nearly 30 years, Mr. Ritchie's subject has been the sites in and around his suburban home in Maryland. He works by developing many drawings at one time; years can be spent on a single drawing as the artist builds up layers of pigment and paper and breaks them back down with erasures and revisions. The small scale and limited palette of the drawings pull the viewer into a mysterious and disorienting view of suburbia.
Mr. Ritchie has exhibited his artwork in a number of solo exhibitions in the Mid-Atlantic region, as well as many group exhibitions around the United States. His work is held in prestigious museum collections including The Metropolitan Museum of Art, The Corcoran Gallery of Art, and The Virginia Museum of Fine Arts. He is currently Associate Curator of Modern Prints and Drawings at the National Gallery of Art in Washington, DC.