The 28th Misty Dailey Awards Ceremony
Posted in Announcements News News
---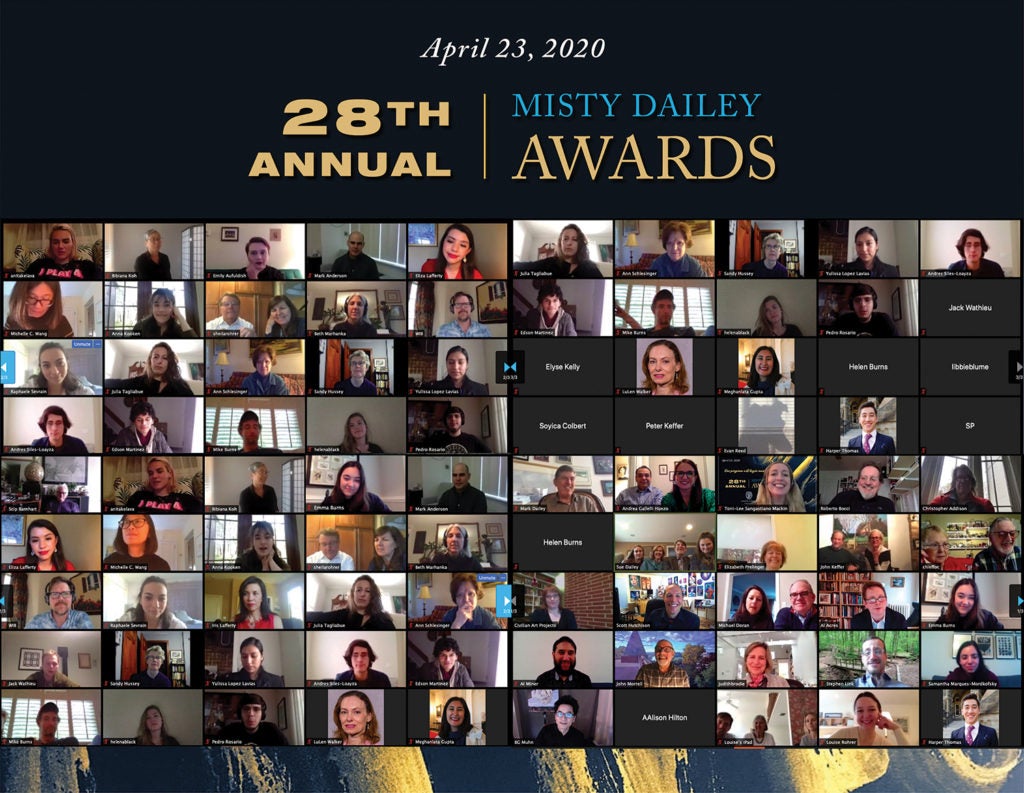 On Thursday, April 23rd, we celebrated our student's hard work at the 28th annual Misty Dailey Awards. The Art and Art History Department, together with the Dailey Family, annually recognize and award exceptional work by Georgetown University Art and Art History students. The awards honor the memory of Frances Louise "Misty" Dailey, an art major at Georgetown, who passed away in 1978 during her senior year. Her family has long supported the arts at Georgetown and endows these awards in Misty's name.
Our regular tradition of catered dinner and awards in person was not possible this year. Instead, we hosted a the ceremony on Zoom with remarks from faculty and students compiled into one video. We were joined by over 80 students, faculty, friends, and donors of the department.
We offer our greatest thanks to all those who made the night happen!
Congratulations to all of our winners!
Senior Art Major Projects
First Prize – Morgan Smith
Second Prize – Anna Kooken
Honorable Mention – Anita Kelava
Honorable Mention – Kent Hall
Outstanding Papers in Art History
Research Paper / First Prize – Emma Burns, "Annexing the Odalisque: How Second-Wave Feminism Affected Female Artists' Depictions of Female Bodies in 1970s America"
Research Paper / Second Prize – Julia Tagliabue, "Bosch's Human Monsters"
Short Paper – Pedro Rosario – "The Art of Smoking: Pipes and Tobacco in Dutch Still Life Paintings."
Art, Diversity, and Healing
Art History – Eliza Lafferty, "African American and Abstract Artists"
Art – Yulissa Lopez Lavias, "Not Just a Child"
2020 Tropaia Awards
Clifford T. Chieffo Award for Art – Edson Martinez
Leo Doran (C'2015) Award for Art History – Raphaële Sevrain
Some moments from the virtual Award Ceremony are below. Attendees were able to send notes of congratulations to students as they won the awards, and cheer them on in real-time via Zoom's Gallery View feature! For a list of previous winners and more details on the awards themselves, please see the Dailey Awards page, linked here.
Studio Art major Morgan Smith accepts the Senior Art Major Award for First Place Senior Studio Art Project.

Art History Major Emma Burns accepts the First Prize award for Outstanding Research Paper in Art History.

Studio Art major Anna Kooken wins Second Prize for her Senior Studio Art Project.

Art History Major Julia Tagliabue accepts the Second Prize award for Outstanding Research Paper in Art History.

Attendees were taken on a virtual tour of the Senior Studio Art Show. The virtual show is available at this link:https://artspaces.kunstmatrix.com/en/exhibition/692540/2020-senior-art-majors

2019 Travel Award recipient Jack Wathieu presents about his experience traveling last summer.

At the end of the ceremony, attendees were invited to a live toast to the graduating seniors of the Department.