Melanie Kehoss at Artisphere and Reston Arts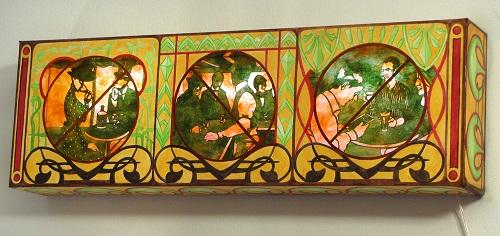 Arlington's Artisphere presents "Glow Tableaux", an exhibit of Prof Melanie Kehoss' light box constructions. Intrigued by the histories and peculiarities of "American" traditions, Prof. Kehoss documents her research, observations, and experiences of cultural phenomena. Colorfully patterned light boxes containing cut paper scenes showcase these rituals, from humorous vignettes, to unexpected evolutions, to mysterious moments. The show runs June 11 – August 23, with an opening reception Thursday, June 12, 6 – 8 p.m. More information here.
Prof Kehoss' cut paper work will also be featured in Greater Reston Art Center's Member Exhibition, juried by Helen Frederick. The show will be on display July 17 – August 23, 2014, with an opening reception Thursday, July 17, from 6 – 8 p.m.